Doul festival is a well-known Indian festival. Apart from the rest of the country, it is also a colourfully celebrated by the people of Assam, especially for the people of Barpeta. Barpetians' hearts are overflowing with festivity and joy during the "doul utsava." It is a festival of colour and joy. The Doul festival brings a lot of joy to the people of Barpeta. The people of Barpeta forget their sorrows and agonies during this festival and celebrate it with traditional gaiety and enthusiasm. Doul utsava is also known as 'holi' or 'Fakuwa.' Spring arrives in the months of "phagun" and "Chot," and the world is filled with the green leaves of the trees, flowers bloom, birds sing sweet songs, the gentle wind blows with fragrance, and everything in this world changes. And it was at this moment that Doul Utsava of Barpeta rejoiced.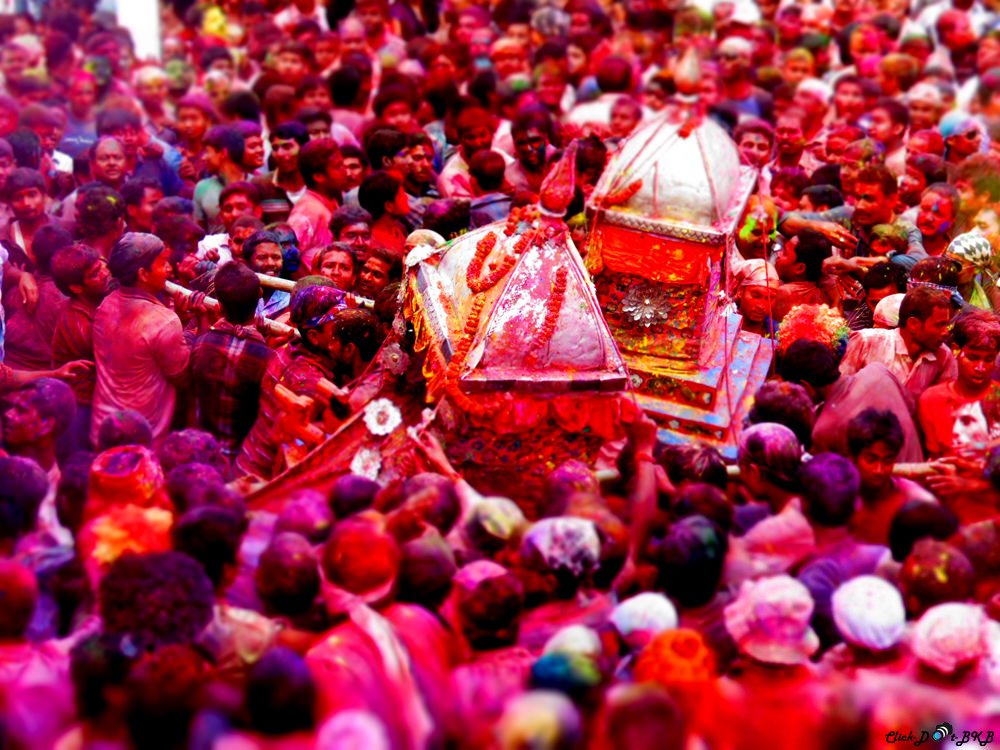 The Holigeets of Barpeta are extremely popular and captivate the hearts of all Assamese. These holigeets are beautiful compositions in honour of Lord Krishna. People come from all over the world to see this doul utsava at Barpeta Satra.
Doul utsava was founded by Mahapurush Srimanta Sankardeva following his great work chihnajatra, and he also wrote some holigeets —
"Range phagu khele chaitanya banamali
Duhate phagur gunda sichanta murari.
Mathura Das Bura Ata first celebrated doul utsava in the model of vaikuntha (heaven) in Barpeta, because doul utsava was first celebrated in heaven. Doul festival is still celebrated with satriya parampara (traditionally) in Barpeta Satra today. Barpeta Satra is also known as Ditiya vaikuntha (second heaven) puri.
It is a special day when Vaishnavas bring nal, khagari, and ekara to Meji. The following evening, Mahaprabhu Doul Govinda and Kalia Thakur are brought from Manikut Ghar to Mathar Chotal with gayan bayan. Mahaprabhu is then brought close to the meji, and after alighting, he circles it seven times. It is known as meji puoa or magh puoa. (We believe that winter is finally leaving) The main attraction of Gandhi is atachbaji (Fireworks) or phanuch. During this festival, the people of Barpeta celebrate with colourful joy and gaiety.
After Meji Puoa, Mahaprabhu is brought to Jagmohan Ghar, and in a sacred moment at night, Mahaprabhu is brought to Doul Ghar by walking around the seven steps (sapta thak), and the people of Barpeta enthusiastically sing the holigeeets –
Phagu khele karunamay
ananda kumara
devara durlava keli
phagur bihar. (Madhabdev)
The second day is known as bhar doul. At Jagmohan Ghar, the Vaisanavas have naam-prasanga. On that day, after finishing the morning song ojapali and gayan-bayan, a gayan-bayan is held. Dhuliya nritya is another memorable show that takes place during these days.
The final day is known as phakua or suweri. Mahaprabhu is brought out of Jagmohan ghar and placed in his former location inside the kirtan ghar in the morning. At noon, Kaliya Thakur and Mahaprabhu are brought back to mathar chatal, and the people of Barpeta rejoice for Phakuguri. Holigeets and their echoes can be heard all over Barpeta-
"Aji range range akakar
aaha bhai khelo sabe
mili prane pran
aaji Barpeta bardhame chouishe phagu ure
abir chandan badanate
aaji basanti kino rang dhaliche
parane parane naba siharan jagiche.
On this memorable day, mahaprabhu and kaliya thakur are seated on a beautiful dola, and as soon as mahaprabhu gosain arrives from Baradi satra, the Vaishnavas bring three mahaprabhu to Kanara satra with the intention of performing heketa. During this jatra, a large number of people gather and sing holigeets-
Aaji khele holi
range brindabane
gopa gopi sabe nache
phakur anande
Mahaprabhu makes his way back from Kanara satra. Because Lord Krishna is not invited by Lakshmi to come in after his return from Ghunucha's house, the Vaishnavas use four bamboos in front of Kirtan ghar to prevent a mahaprabhu. These four bamboos are divided among three haties: uttarhati, which has two bamboos, nahati, which has one bamboo, and dakhinhati, which has one bamboo.
Mahaprabhu walks around the kirtan ghar seven times after breaking these four bamboos. As a result, after spending seven days with Ghunucha, Lord Krishna returns to Lakshmi. Lakshmi defeats Lord Krishna, and as a result of his defeat, Lord Krishna gives Rs 300 and is admitted to Kirtanghar. As a result, Mahaprabhu's bhaktas fine him Rs 300 and bring Kalia Thakur to Bhaj Ghar or Monikut.
"Sandhya samayat karia anek utsava
Doular bhitar goiya pailanta Madhava."Aand thus ends this famous doul festival of Barpeta.