Have you ever wondered how it feels to be walking in a transparent glass bridge suspended hundreds of feet above the ground?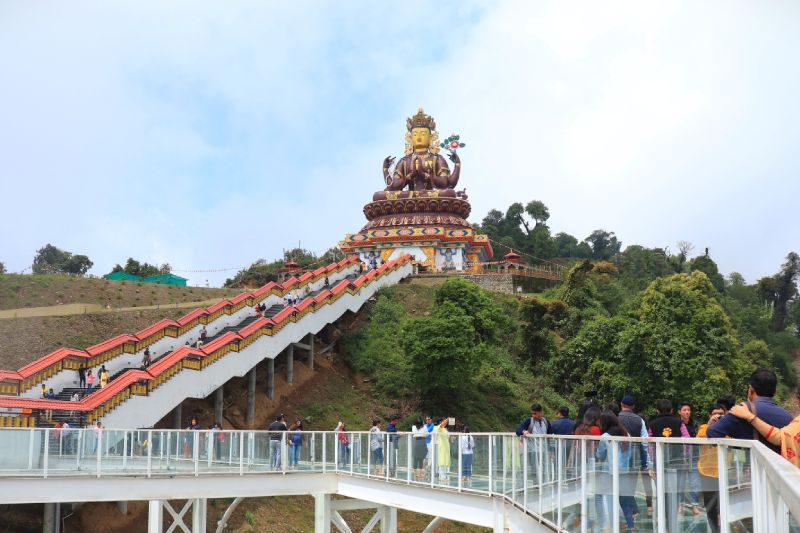 The glass skywalk adds to the allure of the scenic religious site which doubles up as a popular tourist location. Chenrezig or Avalokiteshvara, as per local folk tales, is the earthly incarnation of Lord Buddha, Amitabha. The statue at the Choeling area in Pelling has constructed at a cost of Rs 46.65 crore. It was inaugurated in November 2018 and since then it has flourished to become one of the famous tourist attractions.
Nestled amidst the magnificent Himalayas, the glass skywalk provides a beautiful view of the Buddhist pilgrimage site. The whole complex is located at a height of 7,200 feet above sea level.
Skywalk opening hours:
The opening time of the Pelling Skywalk is 9 am to 6 pm, the 9 hours provided gives ample amount of time for the people to get a chance of enjoying this thrilling walk.
Skywalk tickets:
Though it is India's first Skywalk the entrance fee is very reasonable and affordable for everyone. The fee is Rs. 20 for local and Rs. 50 for non-local.
How to reach
By Roadways :
Pelling has a well-knit road network and thus can be easily reached by road. One can hire a private cab, or can take a state transport bus to reach Pelling. If you are longing for a road trip, you can also drive up to this spot as it is well-connected with popular places like Gangtok, Siliguri, and Darjeeling. Sikkim also serves as a great place to avail the facility of shared cabs that again will drive you up till Pelling.
By Airways :
Located 160 km from the town, Bagdogra Airport is the nearest to Pelling. Well-connected with all major cities, there are several flights operating from this spot. Once you reach the airport, you can easily hire a cab or take a taxi to reach Pelling.
By Railways :
New Jalpaiguri Railway Station situated 52 km away from Pelling is the nearest railway station. After getting down at NJP, one can take a shared cab or a taxi to reach Pelling. One can also take a cab or taxi from Siliguri, which is 6 km away from the railway station.