The village has exclusively been built for tourists to help them understand the lifestyle and the history of the people here. It is one of the ancient heritage villages of Nagaland (Touphema Village Kohima) and is a wonderful recreation of a traditional AngamiNaga village. It is setup with cabins and rooms that have been built to look like traditional huts / cottage.
To experience the true Naga style one must visit to this tourist village. The village was built by the local community, in collaboration with the Tourism Department of Nagaland. Visitors can also devour Naga cuisine specialities such as Ghalo and Bamboo Baked Fish along with Rice Beer at the village. Angami Sekrenyi is an annual festival, which is celebrated with great fervour in the village in the month of February. The main focus is for the attraction of tourists to introduce the Naga culture to the tourists, the best part of the village is that the tourists cans stay in the huts which have the facilities of bathing and sleeping. If you really want to experience something close to tradition then you may visit the village, which will gives you a scope to relax within the natural confinements of the scenic beauty. However, if you have the the zeal of adventure in you, this tourist attraction will not disappoint you either.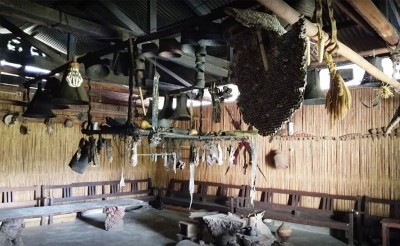 The daily activities in the village include traditional Naga performances. The artists perform various local dance forms and folk tales. You can also taste typical Naga cuisine in the community mess at the village. You can try some Dry Pork, Bamboo Steamed Fish, Smoked Pork Stew, and Kongshia Lon.
You can also visit the nearby markets or take a bus to Kohima where you can shop for handicrafts and local garments.
How to Reach :
By Air. Nearest Airport is in Dimapur, Nagaland.
By Train. Nearest Railway Station is in Dimapur, Nagaland.
By Road. From Kohima HQ to Touphema Tourist Village is 36 Kms and Taxi service is available from Kohima.
By-Monalisa Gogoi