How often do we wake up to the sounds of birds singing in unison? How frequantly do we feel the calmness of the cool breez? How commonly do we experience the bare village roads? All these sounds so rewarding and pure, we are so much occupied in our daily routines that we have forgotten the real beings who we are, so lets explore and be your true self, get connected to the roots.

A small beautiful green village, that the way in the hills of Nagaland, A visit to the village offers tourists an opportunity to interact with the people of the local Angami tribe and learn about how they have succeeded in creating a more conserved and sustainable ecosystem for themselves. Tourists can also choose to spend a night at the village and experience traditional homestays managed by locals. The village is also known for being one of the cleanest villages of Nagaland, thanks to the availability of dustbins and public toilets.Tourists can also enjoy birdwatching and trekking during their visit to Khonoma. Lying on the outskirts of the city, the village is known for successfully conserving rare and endangered species of animals and plants as well as terrace cultivation on the slopes of hills.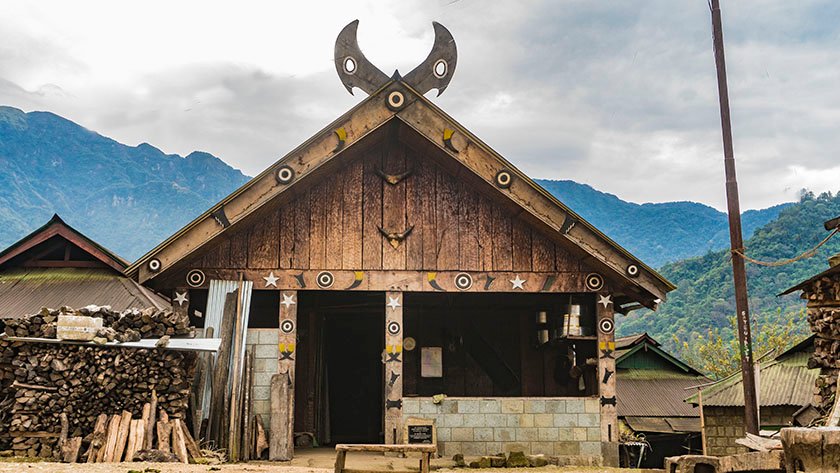 What's really surprising about the village how the people with the minimal means of living they have, all the houses have Bison horns at the rooftop that symbolys unity among all and most of the houses have guns and other firing equipments hanging at the front door that belongs to their family ancestors. The village people mostly dependent on paddy fields as they don't have many opportunities of work. The village is surrounded by thik forest that has many varieties of wild fruits and vegetables.
How to reach:
Air: Nearest air head is at Dimapur which is well connected by flights with. Kohima is about 74 km from Dimapur and can be reached by hiring a taxi or catching a state bus for Kohima.
Rail: Nearest rail head is at Dimapur which is connected to other major cities of North-East and the country.
By-Monalisa Gogoi