The Do-Drul Chorten (or Duddul Choedten) is one of the most recognisable stupas in Gangtok, nestled in the stunning valleys of Gangtok. Built in 1945 under the supervision of late Truslshi and Rimpoche, the Stupa has around 108 Mani Lhakor or prayer wheels.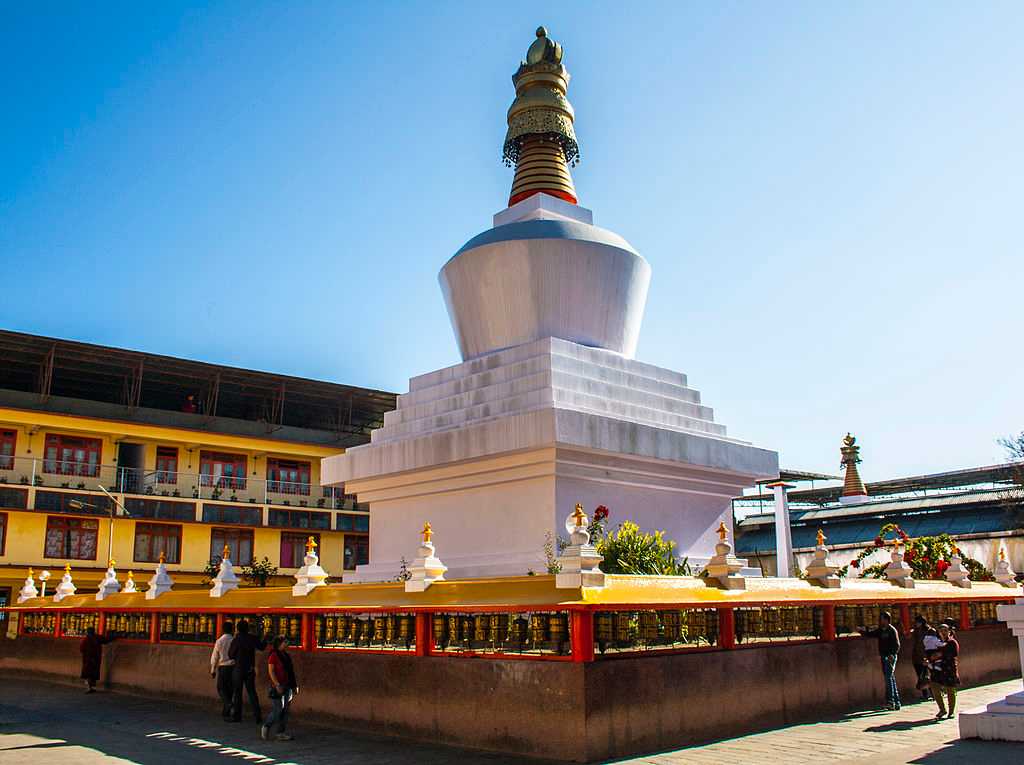 These wheels are engraved with important mantras which can be chanted by rotating them. The quaint serenity and calmness of Do Drul Chorten has attracted tourists and devotees since years. It is said that this site was haunted by spirits, who troubled anyone who came here. Then a powerful Lama arrived from Tibet, subdued the spirits, and built a monastery. A stupa was built later, so that the spirits could be contained even after his passing.
Inside the stupa are placed sacred texts, statues of the gods and other such religious objects, Popularly known as Phurba, the white Chorten Stupa is marked by a golden top dome and can be seen from various places in Gangtok. The deity enshrined on top of the stupa is known as Dorjee Phurpa or Vajra Kilaya. The Chorten is surrounded by Chorten Lakhang, where there are two huge statues of Guru Rinpoche (Guru Padmasambhava). Built as desired by Dud-Zom Rinpoche, the stupa is girdled with 108 prayer wheels. These prayer wheels have a holy inscription engraved on it, Om Mani Padma Hum. Inside the Chorten Stupa are Kanjur holy books, relics, complete mantras and several other religious objects.
The Do Drul Chorten within the town of Gangtok in Deorali area. It is an easy walk from the main town. However, if you're not too keen on walking, several cabs are available in town to bring you here.So first you have to reach gantok
By Air
The airport nearest to Gangtok is about 124 kilometres away in Bagdogra, West Bengal. From the airport, you can hire a shared taxi or a private vehicle that will get you to Gangtok in a matter of two hours. The drive from Bagdogra to Gangtok is absolutely stunning with gorgeous mountains and River Teesta as your backdrop.
By Train
The nearest railway station to Gangtok is about 148 kilometres away in New Jalpaiguri in Siliguri. The station is well-connected to major cities like Kolkata and New Delhi. From New Jalpaiguri you can take a taxi to Gangtok or go to Siliguri Bus Station and catch a state-run bus to Gangtok, which will take you about 5-6 hours.
Road/Self Drive
Tourists rolling in from nearby places like Siliguri, Darjeeling, Kalimpong and Kolkata prefer to drive to Gangtok. The roads are well-maintained, except in a few places.
By-Monalisa Gogoi