As we know that the grand 'Hornbill Festival' has now become one of the most popular festivals in Northeast India and the busiest tourist season for the state of Nagaland. This festival has taken Nagaland on a global platform with people from across the world coming forward to become a part of this vibrant celebration. Also, the other regions of the different Northeastern states are getting inspired by this initiative and now they have started conducting their own regional festivals. Hornbill Festival, annually held from December 1 to 10, will be organized virtually this year owing to the COVID pandemic.
Hornbill festival has been named after the bird hornbill, which is considered a symbol of "respect" and has found its mention in the folklore of most of the state's tribes. From folk dances, folk songs to traditional arts and crafts, several different activities and events take place during these 10 days of the festival, and most of them are held in the Kisama Heritage Village located near Kohima.The Nagaland state government earlier attracted criticism after its tourism department issued a notification, asking other departments to initiate preparations for the said festival.
All diverse tribes in Nagaland offer their heartfelt contribution towards making the festival more vibrant and entertaining. All people come together, united under one wing to make this celebration an extraordinary possibility. People from all over the world come to visit this promising occasion either to merely witness or participate or sometimes, both. To visitors, the festival offers a clearer glimpse into understanding the Naga culture better. People are welcome to partake in various extravagant dance and musical performances as well as competitions. It a very beautiful display of the cultural practices of Nagaland. The people of Nagaland are all the more kind with their helping hands and smiles.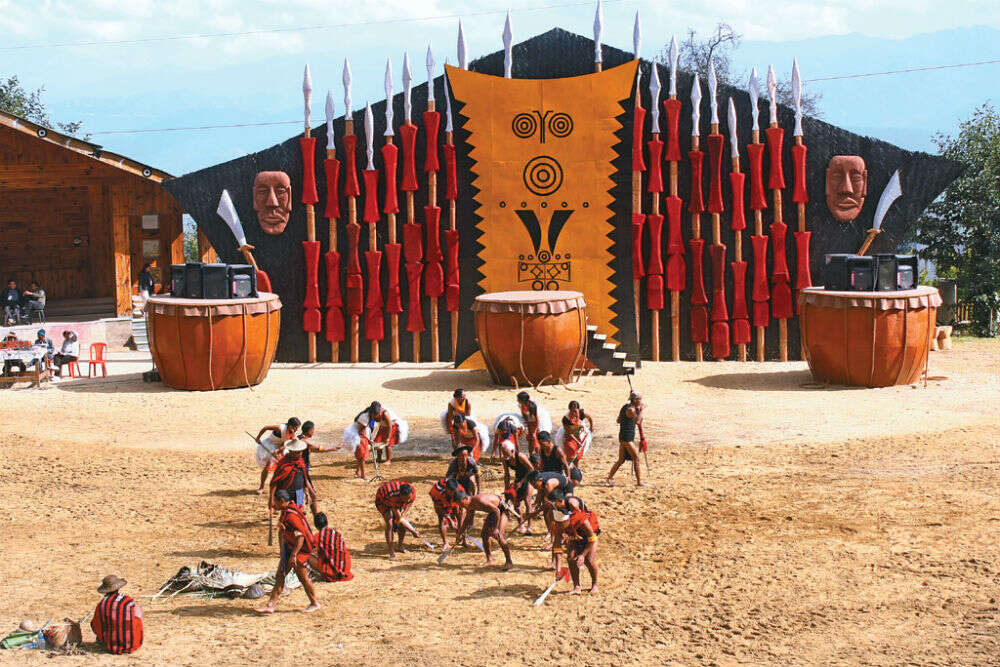 How to reach:
The best way to reach the festival venue is to take a flight to Dimapur and then continue the journey by road. It will take about 3 hours to reach Kohima and another 30 minutes or so to Heritage Village, Kisama from the airport. Another option is to get on a train to Guwahati and from thereon, travel to Dimapur Railway Station. Traveling by train can be slow but it offers the most scenic views.