Bhutan is a other-worldly Buddhist kingdom in Asia, set high up in the Himalayas. Affectionately known as "The Dragon Kingdom," with steep forested mountains and deep hazy valleys, it's a place of untouched mystery and magic.
What To See:
Paro: The verdant Paro Valley is regarded as one of the most beautiful in all of Bhutan. Take in the history-laden grandiose and breath taking scenery, sprinkled with traditional houses, monasteries, and ripening rice fields. If you are a nature lover looking for some peace and quiet, this is the place to be.
Taktsang Monastery (Tiger's Nest): Nestled on the edge of a precariously high cliff, the iconic Taktsang Goemba (monastery) is the unofficial symbol of Bhutan and one of the most sacred pilgrimage sites. A pony ride is available till the 'cafeteria', a wooden teahouse-restaurant located on the ridge, offering great views of the monastery. Whether you are spiritual or the adventurous kind, this is an exhilarating journey offering breathtaking views along the way. To enter the monastery, visitors require a special permit, which needs to be procured in advance.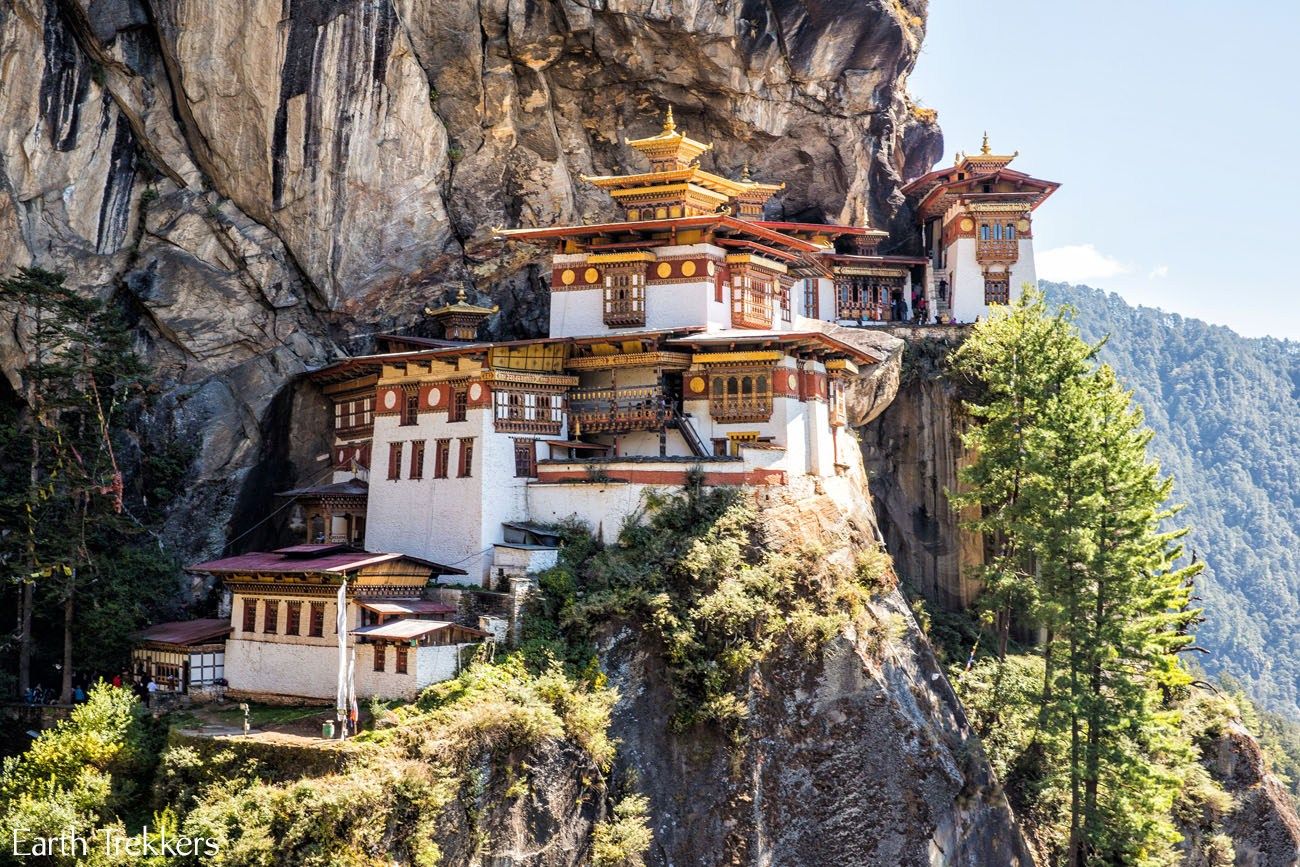 Trashi Chhoe Dzong: A must-see on every visitor's list, the impressive structure with large golden Bhutanese-style spires on top is the seat of the national government, the national library, throne room of His Majesty the King of Bhutan and the nation's largest monastery. It is also the venue of the famous Buddhist religious celebration, Thimpu Tshechu.
You Can Do:
Trekking on the Snowman Trek: The Snowman Trek is one of the most challenging and adventurous treks in the world. It starts at Paro and leads you through Lingshi and Laya to the remote corner of the Lunana Valley. Walk over 5,400 metres crossing four different passes and camp at high altitudes. The best time to enjoy treks here is between September and October.
Mountain Biking in Paro and Punakha: Mountain biking trails are aplenty and an excellent choice if you want to explore further ruins and monasteries that are inaccessible by foot. Biking down the route from Paro to Bumthang, passing rice fields, rugged terrains and spiraling descents are popular among bikers. Punakha also has a number of trails for bikers; popular ones include one that starts from Pho Chhu and the other leading up to Tschochagsa.
Rafting and Kayaking: The lower Paro Chhu River stretches for about seven kilometres and has many small boulder rapids. Mo Chhu on the other hand is more suitable for beginners and as the river flows through the valley, you get to see sights such as one of the queen's winter residences, the king's winter retreat and beautiful farmland.
Food To Eat:
Ema Datsi: A dish made of fresh yak cheese and chillies, Ema Datsi is an everyday specialty and is found in most restaurants. This delicacy is the national dish of Bhutan.
Phaksha Paa: Chilies are an essential part of the Bhutanese cuisine. Phaksha Paa is a pork dish cooked with spicy red chillis with radishes or spinach. If you are a pork eater, then this is a must for you!
Hoentoe: An interesting take on dumplings, Hoentoe are aromatic buckwheat dumplings stuffed with turnip greens, datshi (cheese), spinach and other interesting ingredients.
How To Reach There:
By Air: Bhutan's only international airport is in Paro, which is 6 kilometres away from the city.  It is about an hour and a half away from Thimpu.
Road/Self Drive: Bhutan is well connected by roads. Thimpu has a city bus station from where inter-district buses depart and arrive. From Paro airport, Thimphu-bound taxis are available and can cost up to Nu 800. Self-driving from Phuentsholing is a scenic and enjoyable journey that takes about five hours (172 kilometres).
By-Monalisa Gogoi