Looking through the new picture books set for publication in 2020, one theme kept standing out: positivity. The lineup of new picture books coming out in 2020 is jam-packed with uplifting, positive, and encouraging stories.
Tomorrow I will be kind-by Jessica Hische
Start the year off on a high note with this uplifting follow-up to Tomorrow I'll Be Brave. A heartfelt reminder to always treat others with kindness, Hische's latest inspires kids and adults alike to be more compassionate people with the turn of each hand-lettered page.
A Little Book About 123- By Leo Lionni, illustrated by Jan Gerardi.
No childhood is complete without Leo Lionni's beloved children's books. This new board book joins the collection of concept books based on Lionni's bestselling classics. Babies and toddlers will love counting party supplies as a group of adorable little mice get ready for the big bash.
Just like Me- Venessa Newton
-As the mom of three girls, this is one of the picture books I'm looking forward to most in 2020. It's a collection of mini-stories that celebrate all kinds of girls – girls with goals, girls who feel powerful, girls who give back, and girls who love. From the country to the city, girls from all backgrounds share their thoughts and dreams. Written by the author of Grandma's Purse, this book will warm the hearts of everyone who reads it.
Jack at Bat – by Mac Barnett, illustrated by Greg Pizzoli-
Fans of the A Jack Book series will love seeing new stories hit shelves this year. This sidesplitting early reader series is quickly becoming a favorite of growing readers everywhere. Kids will laugh out loud as they read about Jack's latest adventures playing baseball in Jack at Bat and visiting a ranch in Jack Goes West, both publishing in February. In May, kids can enjoy two more stories with Jack at the Zoo and Too Many Jacks. That's a lot of hilarious fun coming your way!
No More Nap-by Chris Grabenstein, illustrated by Leo Espinosa–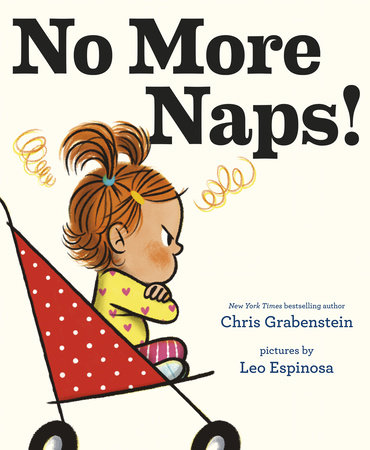 Best known for the wildly popular Mr. Lemoncello's Library series, Chris Grabenstein's debut picture book delivers a giggle-inducing twist on the battle between a stubborn child and her looming naptime. Annalise refuses to take a nap, even though everyone she meets gladly takes hers. But when Annalise is finally ready to rest, there are no naps left!
by- Monalisa Gogoi